Dirty hand dryers are a common problem in many public restrooms. In fact, they can do more than just spread germs – they can also make your customers sick.
Savortex is the industry leader in hand dryer technology, and our products are designed to keep your customers healthy and happy. So if you're still using outdated, dirty hand dryers, it's time to switch to Savortex. You won't regret it!
Unfortunately, many people don't even realize how dirty their hands can get after using a hand dryer. In this blog post, we'll discuss the dangers of dirty hand dryers and why you should switch to Savortex for your hand drying needs. The economical and sustainable way to dry the hands in your business is with high-quality, eco-friendly hand-drying products.
Traditional Hand Dryer Problems
The death of traditional hand dryers has been a long time coming. These devices are unreliable because their brushed motors don't work long-term. The maximum operating time for this type of machine is 1,000 hours – that's it! This means you'll have to replace your hand dryer every couple of years because they always break down.
Additionally, traditional hand dryers are extremely energy-inefficient. They can use up to 3 times more electricity than a high-speed, energy-efficient hand dryer like the ones offered by Savortex. This makes them bad for the environment and bad for your bottom line.
This is not precisely cost-effective when there is no way around it other than purchasing another one outright instead. The problem with traditional hand dryers is that they always die on you, which causes service disruptions and customer complaints. In addition, your brand reputation will be damaged every time a motor in one of these gadgets stops working. This is why you need to avoid misleading claims when buying traditional dryers.
Switching to safe, sustainable and smart hand dryers
It's time you got a life-changing invention! The world has been waiting for it, and it just arrived in the form of Savortex Smart Hand Dryers – an eco-friendly product that will revolutionize how we dry our hands.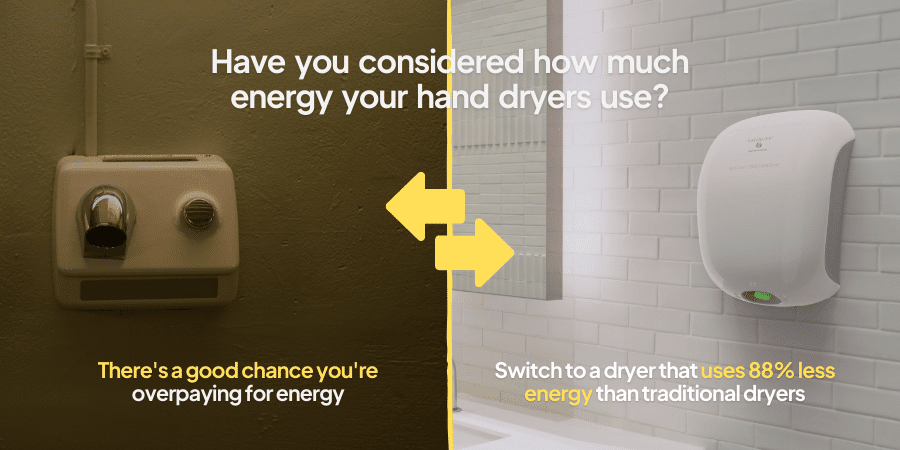 Savortex hand dryers are the smartest, most sustainable and most cost-effective way to dry your hands. They use up to 88% less energy than traditional hand dryers, and they're designed to last for years – not months (including an incredible 5-year warranty).
The cutting-edge technology in our hand dryers allows for a longer-lasting and more cost-saving experience than ever before. Brushless motors are motors that are powered by electrical switches. This means that no dust particles will get into the motor, resulting in cleaner air and a motor that can operate for 20,000 hours, offering 10 times longer life than traditional generators – all while using less energy.
Innovation doesn't come much more innovative than this! The Savortex hand dryers have in-built sensors and remotely report their health to avoid customer complaints, service disruptions, or expensive replacement costs.
If you're still using outdated, dirty brushed-motor hand dryers in your business, it's time to switch. Dirty hand dryers can trigger illness and make your customers sick, so it's crucial to choose a high-quality, eco-friendly hand dryer like Savortex.
We offer a variety of products that are designed to meet your specific needs, and we're always here to help you find the perfect solution for your business. Contact us today for more information!