The Savortex smart ranges are equipped with a sensor that tracks the health and energy usage of hand dryer units in real time, enabling building managers to use the data for CSR reporting to meet trackable sustainability targets. The smart solution notifies cleaners about necessary services and maintenance requirements, ensuring uninterrupted washroom servicing based on footfall statistics and enhancing hygiene standards. Here are just some of the ways that smart dryers can benefit you:
Real Time Data at Your Fingertips (Customisable Cloud Dashboard)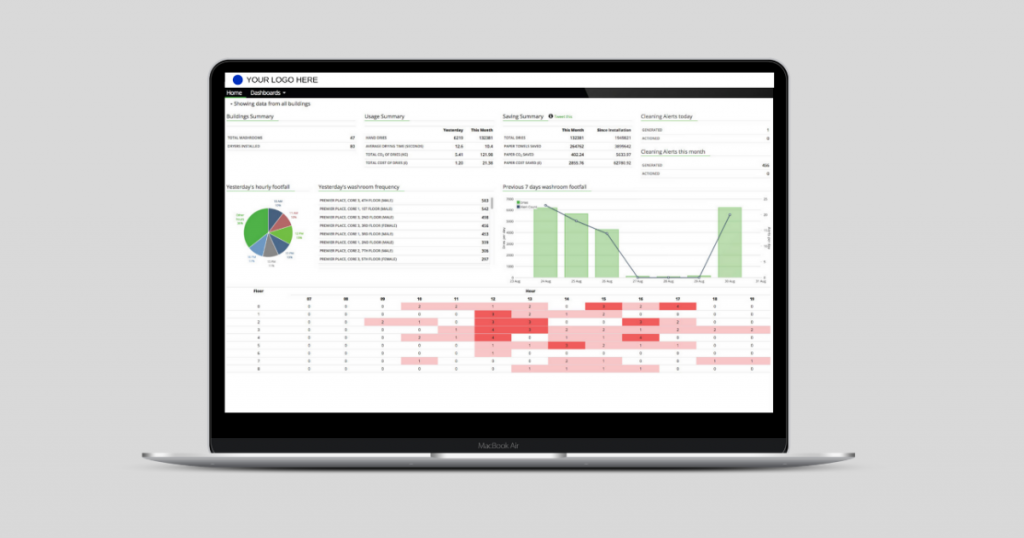 Smart hand dryers are more than just machines. They're about providing a bespoke washroom experience, which is why every smart dryer comes with its own customisable web portal.
The cloud dashboard allows you to receive real-time updates on your unit's operating and maintenance progress. It's easy to use, and provides a comprehensive overview of your washroom's performance in the palm of your hand. The cloud dashboard also gives you access to customisable reports, enabling building managers to offset sustainability measures leading to savings and also giving you the tools needed for customer satisfaction and cost savings.
This allows you to do things like:
Brand your smart dryer wherever you want by uploading your logo or image (for example on the front of the machine)
Provide a comprehensive overview of all information relating to that smart hand dryer including usage history and maintenance data
Live Heatmap
A live heatmap is a graphic representation of your washroom displaying the data collected by your hand dryer. You can view this in terms of location (a map) or temperature (a colour-coded scale). With the heatmap, you'll be able to have an overview of how busy your washrooms are to determine which needs cleaning first, which further improves hygiene and the customer experience You'll also be able to see any areas that need to be treated with more care, such as heatmaps or areas where people are likely to congregate. Heatmaps can be generated on an unlimited basis for all users within your facility, giving you complete visibility over every washroom in your building.
Our live heatmaps allows you to see how your hand dryer is performing over time. You can use it as a tool for optimising its performance and ensuring that it's working as effectively as possible.
Remote Energy Monitoring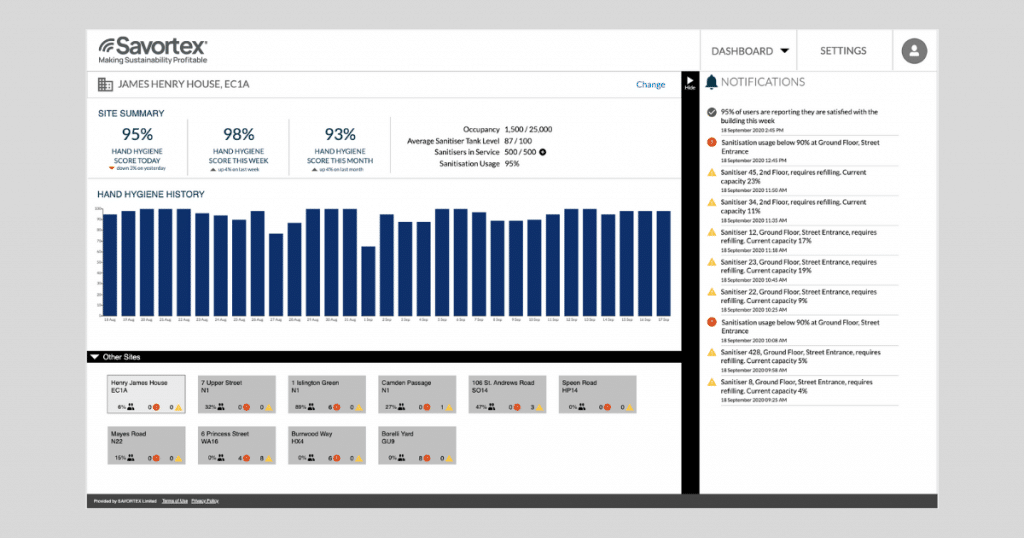 It's easy to see the benefits of smart hand dryers. Smart technology can help you save money, reduce your carbon footprint and give you peace of mind by allowing you to remotely monitor energy usage, drying times, servicing needs and more.
With remote energy monitoring, you'll be able to track how much power is being used by each hand dryer in your facility. This will allow you to monitor costs if they go over budget, which ensures no spending overlaps from other departments. The data collected from remote energy monitoring also allows us to determine average drying times and proactively alert staff if there are any issues with their unit performance or servicing needs on other devices within their facility.
Conclusion
Our innovative technology and focus on sustainability make our smart hand dryers a wise investment for any organisation. Not only do these devices provide a highly efficient way to dry hands quickly and hygienically, but they also help to reduce the spread of germs and bacteria in high-traffic areas. The energy-saving features of Savortex' hand dryers also provide cost savings for facilities, as the units use up to 88% less energy than traditional dryers. Additionally, these devices are designed to last for up to 10 times longer than standard hand dryers, than standard hand dryers thanks to the advanced brushless motor, reducing maintenance and replacement costs in the long term. By investing in Savortex smart hand dryers, businesses can improve their environmental impact, reduce costs, and provide a safer and more hygienic experience for employees and customers alike. So why not join the growing number of businesses worldwide that are switching to Savortex innovative hand dryers? Make the investment today and start enjoying the benefits of a more sustainable and efficient future for your organisation.