With hand washing and cleanliness at the forefront of people's minds, it is important that your staff and visitors feel that they are in a clean and safe environment when visiting your offices. The Smart Hand Dryer range from Savortex will give you peace of mind that not only your staff and visitors feel safe but that you are also making a solid, long-term investment for your business and for the environment. The Smart Hand Dryer from Savortex is a premium hand dryer unlike any other on the market today. It is a reliable, ecologically focused, premium hand dryer created for organisations who are committed to not only to reducing their carbon footprint, but also to providing the ultimate service for staff and visitors.
With a lifespan 10 times longer than traditional hand dryers, the Smart Hand Dryer from Savortex is made in Britain and has a record-breaking cost of 18p per 1000 dries! This premium hand dryer is manufactured from 100% recyclable ABS plastic and comes with a five-year warranty. The Savortex Smart Hand Dryer uses 88% LESS energy than traditional dryers but still has an incredible 11 second hand dry time.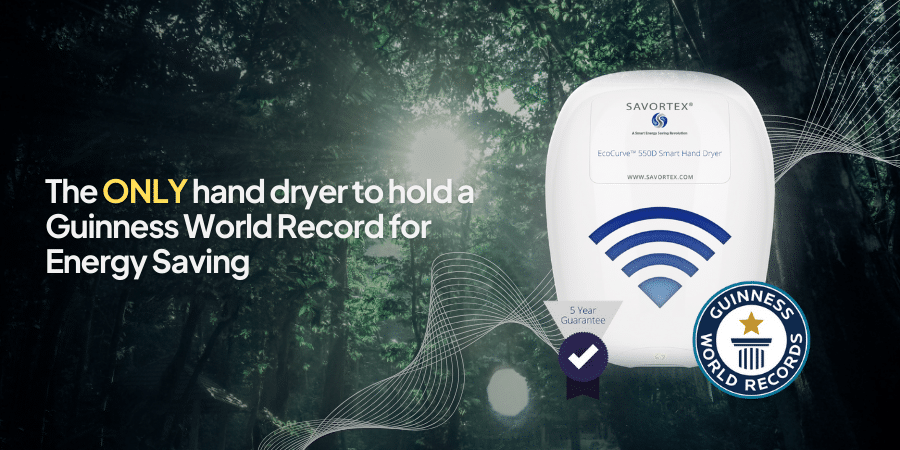 In addition to these cost and environment saving features, this premium hand dryer is the first smart (internet connected) hand dryer on the market, making it an ideal long-term choice of hand dryer for your company. The Savortex Smart Hand Dryer has inbuilt internet enabled sensors that track usage and footfall in real-time. The information is then transmitted to the cloud and displayed on your customised GDPR compliant, Washroom Portal. Based on footfall statistics, your cleaning and maintenance staff receive real time hygiene alerts via your fully branded hygiene app to inspect washrooms. It also means that the facilities or building manager can assess real-time information displayed to deliver improved energy management, hygiene, and resource efficiency – creating the most sustainable and hygienic washrooms.
By consuming less energy and offering smart technology, the Savortex Hand Dryer range significantly reduces greenhouse gas (GHG) emissions compared to conventional dryers and paper towels. Savortex is the first hand dryer manufacturer to achieve a Guinness World Record title for the world's most energy-efficient hand dryer.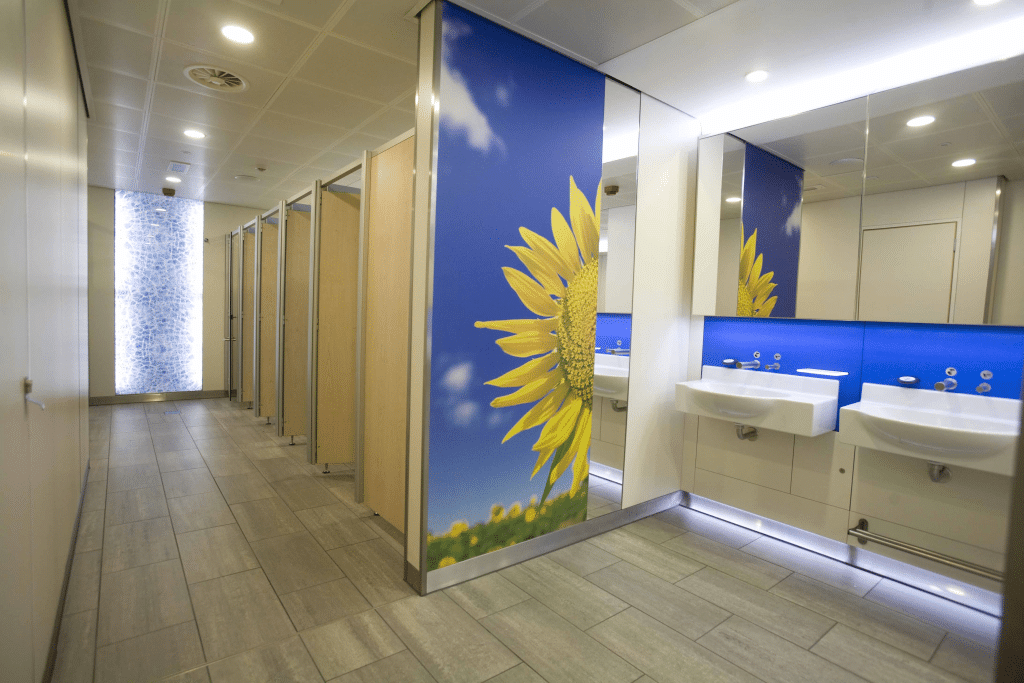 The installation of the Savortex EcoCurve 550D Smart Hand Dryer in male bathrooms at Gatwick Airport's South Terminal saw:
58.75% energy reduction per dry
44.76kg of CO2 savings
Remote washroom management and trend analysis
Operational savings and efficiencies from responsive washroom cleaning
ROI expected 18 months
The SAVORTEX EcoCurve 550D smart hand dryer supported our client, Gatwick Airport's sustainability strategy.

Dr. Zainab Dangana, Wates Smart Space
The Royal Bank of Scotland (RBS) was using costly and wasteful paper towels as the hand drying solution in its washrooms used daily by 3,200 staff. They were looking for innovative technology solutions to reduce cost, litter, resource and waste to landfill throughout its 50 corporate buildings. Savortex deployed 4 of its EcoCurve 550D Smart hand dryers to 2 RBS locations in London and Manchester, where there is high footfall. Results from the trial saw:
94.5% cost saving
£35,000 paper towel savings pa
14 tonnes of CO2 savings pa
Operational savings and efficiencies from responsive washroom cleaning
ROI 11 months
"The trial was an overwhelming success, and we are expanding this more widely. RBS recognises the two-way benefit that we can have by working with SMEs, like SAVORTEX, who are often a real hotbed for innovation and invention." RBS, Head of Estates.
Savortex Smart Hand Dryers are designed to put you in control and deliver essential real-time information enabling business owners and building managers to create safer and healthier environments with minimal effort. The benefits of investing in the Savortex Smart Hand Dryer are cost effective and environmentally friendly, making it a smart, long-term investment for your business.