Introduction
In today's fast-paced world, where hygiene and sustainability are of utmost importance, Savortex has emerged as a trailblazer in the hand hygiene industry. With their innovative approach to smart hand dryers, they have revolutionized washroom experiences across a wide range of sectors. In this blog, we will delve into the phenomenal success story of Savortex and explore how their cutting-edge technology is leading the way in hand hygiene.
Setting the Stage with Clients
Savortex's track record of success speaks for itself, with prestigious clients such as Manchester Central, Gatwick Airport, and The Royal Bank of Scotland already benefiting from their smart hand dryers. These esteemed organizations have chosen Savortex to elevate their washroom standards and provide their visitors with a superior hand drying experience. By partnering with industry leaders, Savortex has established a reputation for excellence and reliability.
Harnessing the Power of AI and IoT
Savortex's smart hand dryers harness the power of Artificial Intelligence (AI) and the Internet of Things (IoT) to transform the way we perceive hand hygiene. With advanced sensors and AI algorithms, these devices go beyond the basic task of hand drying. By seamlessly integrating with facility management systems, Savortex's hand dryers provide real-time data on motor health, energy usage, and washroom footfall. This data-driven approach empowers facility managers to optimize operations, improve hygiene standards, and reduce maintenance costs, all while ensuring a seamless and efficient washroom experience.
Hygiene Reinvented for the Modern Age
In the current landscape, hygiene has taken center stage, and Savortex's smart hand dryers rise to the occasion. Unlike traditional hand dryers or paper towels, which can harbor bacteria and viruses, Savortex's dryers prioritize hygiene and safety. With touchless operation, HEPA filters, and rapid drying capabilities, these devices minimize cross-contamination risks, providing users with a hygienic and safe hand drying experience. This not only instills confidence in washroom visitors but also contributes to a healthier and more sanitized environment.
Sustainability as a Core Value
At Savortex, sustainability is not just a buzzword—it's a core value embedded in every aspect of their smart hand dryers. Traditional hand drying methods, such as paper towels, generate substantial waste and harm the environment. In stark contrast, Savortex's devices are eco-friendly alternatives that significantly reduce the carbon footprint of washrooms. By eliminating the need for paper towels and optimizing energy consumption, these dryers support businesses in their sustainability efforts. Furthermore, the integration of sustainability reporting capabilities allows companies to track their energy usage and carbon emissions, empowering them to make informed decisions and contribute to a greener future.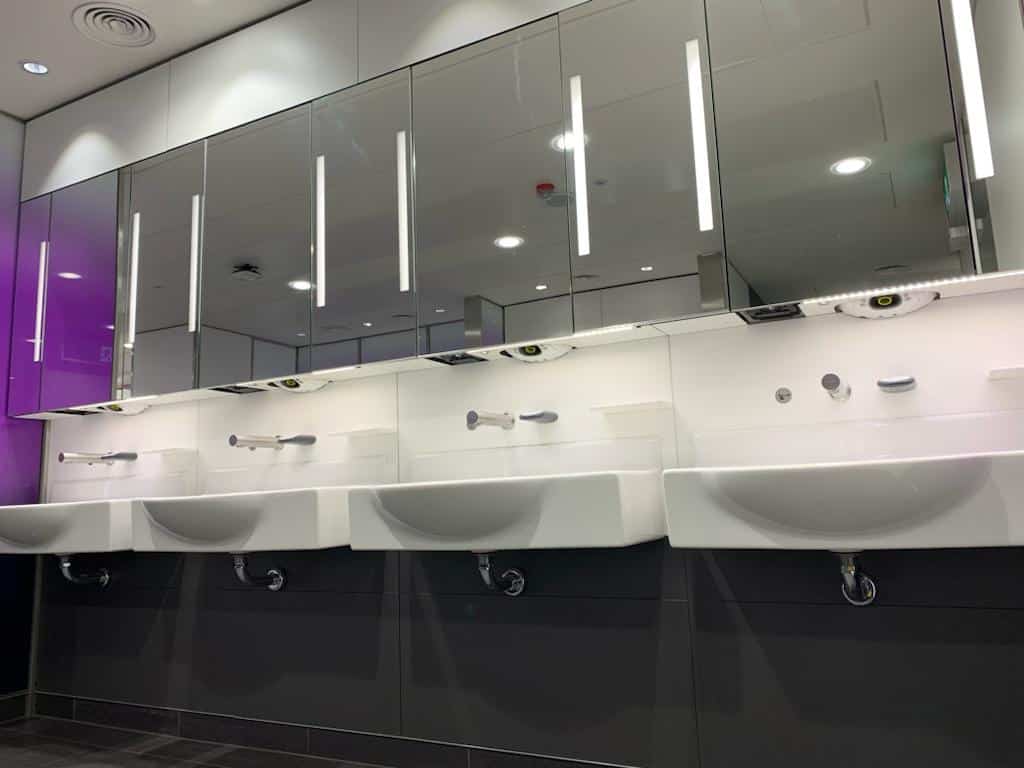 Enhancing the User Experience
Savortex's smart hand dryers are designed with the user in mind, delivering a seamless and enjoyable experience. With their rapid drying capabilities, adjustable airspeed, and touchless operation, these devices prioritize convenience and comfort. Leveraging IoT technology, Savortex offers additional smart functionalities such as remote monitoring, maintenance alerts, and personalized settings. These features not only enhance user satisfaction but also streamline facility management processes, ensuring efficient operations and exceptional washroom experiences.
The Future is Now: Embrace Savortex's Hand Hygiene Revolution
As we look ahead, it is clear that Savortex's smart hand dryers are the future of hand hygiene. Their AI and IoT-powered devices have set a new standard in washroom standards, combining cutting-edge technology, hygiene advancements, and sustainability. To witness the transformative power of Savortex's smart hand dryers, one need only look at their impressive client roster and the countless success stories. Are you ready to take your building facilities to the next level? Join the hand hygiene revolution by booking a business case study or contacting our dedicated team today.
Together, we can create safer, more sustainable environments while providing an exceptional user experience. Savortex's smart hand dryers are not just a solution for today—they are a stepping stone into a future where hygiene, technology, and sustainability intertwine seamlessly.